Engages,
Dale Gorfinkel, Robbie Avenaim, Ernie Althoff
Vaucanson's Duck
Opening: Friday 9 November, 6pm
Dates: 9-23 November 2007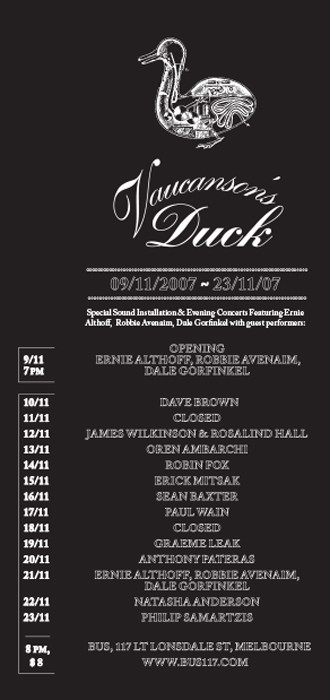 Vaucanson's Duck brings together, for the first time, three unique instrument builders and sonic thinkers to construct a special sound installation and series of concerts at Bus. ERNIE ALTHOFF, ROBBIE AVENAIM and DALE GORFINKEL will provide a site-specific collaboration utilising their diverse array of wondrous automated music inventions, continuously challenging and mesmerising audiences both sonically and visually.
Evening concerts will feature Ernie, Robbie and Dale along with guest performers:
9/11 Opening 6pm - performances start at 7pm (Dale Gorfinkel, Robbie Avenaim, Ernie Althoff)
10/11 Dave Brown
11/11 closed (S.S.L - Dale Gorfinkel and Robbie Avenaim @ the Toff)
12/11 James Wilkinson & Rosalind Hall
13/11 Oren Ambarchi
14/11 Robin Fox
15/11 Erick Mitsak
16/11 Sean Baxter
17/11 Paul Wain
18/11 closed - (WOG @ the Toff)
19/11 Graeme Leak and Rod Cooper
20/11 Anthony Pateras
21/11 Dale Gorfinkel, Robbie Avenaim, Ernie Althoff
22/11 Natasha Anderson
23/11 Phillip Samartzis
All performances (10/11 - 23/11) 8pm, $8
Jacques Vaucanson (French, 1709-1782) Vaucanson's Duck is perhaps the most famous automaton that has ever existed. He wanted to construct moving anatomical figures which could be used by doctors and surgeons to demonstrate bodily operations. Arriving In Paris at age 26, he lacked money for these experiments and decided instead to produce "some machines that could excite public curiosity." In 1738 he presented before the Academie Royale des Sciences three automata - a drummer, a flute player and the duck. They met with an immediate and enormous success - not only among the public but with savants as well. The duck was exhibited with great acclaim throughout Europe, fell into ruins, was repaired, lost, and rediscovered, and is last recorded in the 1860s.